1740 N Albany
Welcome to this remarkable and captivating residence, an exquisite addition to the Indigo Homes Collection. Designed with contemporary aesthetics, an abundance of natural light, and sustainability at its core, this home redefines modern living. Boasting an Energy Star Rating, it combines functionality with eco-consciousness, ensuring a harmonious blend of style and conscientiousness.
Upon entering, you'll be greeted by a side entry that leads to a spacious living room, spanning the entire width of the house. Adorned with large windows, it offers a picturesque view of the front yard and the charming tree-lined street. The living room seamlessly transitions into a generous dining area, creating a fluid and inviting space. Adjacent to the dining area is the sleek and custom-designed kitchen, featuring frosted glass insets in the overhead cabinets, lustrous quartz countertops, stainless steel appliances, ample storage options, and two frosted glass windows at the kitchen counter for an abundance of natural light.
Continuing through the main level, you'll discover a spacious family room, currently serving as a dining area, providing versatility and accommodating various lifestyle preferences. From here, step out into the expansive backyard, where you can immerse yourself in the serenity of outdoor living, or ascend to the roof deck situated atop the two-car garage, a perfect retreat to savor the views and unwind.
Venturing to the upper level, you'll find an exceptional primary bedroom suite that will exceed your expectations. With west-facing windows, it offers abundant natural light and a tranquil ambiance. The bedroom also features a thoughtfully designed wall of closets, providing ample storage for your wardrobe and personal belongings. The freshly renovated en-suite bathroom complements the suite with its contemporary design, showcasing a walk-in shower, a custom double vanity with ample storage space, and a harmonious blend of form and function.
Additionally, the home offers two generously proportioned guest rooms, providing comfortable accommodations for visitors or family members. These rooms share a well-appointed bathroom, ensuring convenience and privacy for all.
Descending to the lower level, you'll discover a vast recreation room bathed in natural light, offering endless possibilities for entertainment, relaxation, or recreation. The lower level also houses a gracious guest bedroom, accompanied by a well-appointed guest bathroom, perfect for hosting overnight guests or creating a private retreat. The large laundry room offers organized hanging space and side-by-side washer and dryer units, ensuring laundry chores are a breeze.
Notably, this residence incorporates innovative technology and eco-friendly features throughout, promoting energy efficiency and sustainability. From energy-efficient appliances to a tankless water heater and low-flow fixtures, the home embodies a commitment to green living, contributing to a healthier environment.
Location-wise, this property is truly exceptional. Situated a mere quarter-block away from the entrance to the renowned 606 Trail, you'll have effortless access to nature and recreational activities. Explore the scenic paths, enjoy invigorating walks or bike rides, and immerse yourself in the beauty of the surrounding greenery. In close proximity, you'll also discover de Burgos (Julia) Park, a serene oasis perfect for leisurely strolls or peaceful moments of reflection.
Furthermore, the neighborhood offers a plethora of amenities to enhance your lifestyle. A short walk will lead you to charming cafes, enticing restaurants, – Giant (Michelin Bib Gourmand), Scofflaw (Chicago Readers' Choice 2022 cocktail bar), and Parson's Chicken & Fish, and the magnificent Humboldt Park. Immerse yourself in the park's enchanting atmosphere, where you can embark on a leisurely paddleboat ride on the sprawling lagoon at the Humboldt Park Boathouse. Indulge your culinary curiosity by sampling the flavors of the neighborhood, such as the mouthwatering jibarito—a plantain-based dish invented in Humboldt Park. Don't miss the delectable versions offered at local favorites like La Bruquena and Papa'sCache Sabroso.
Embrace the opportunity to make this remarkable residence your new home!
Video
Floor Plans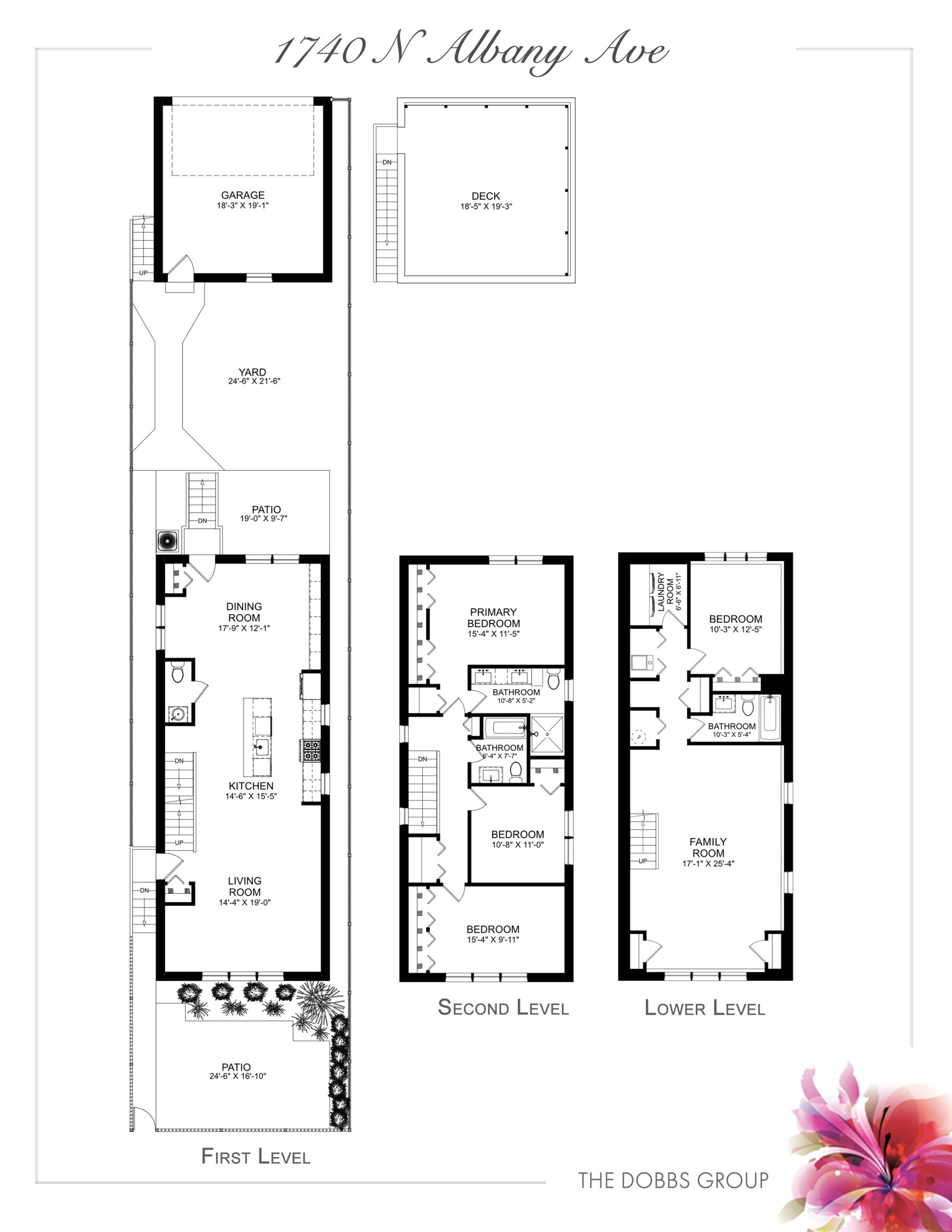 Digital Brochure
1740 N Albany – Brochure