Award Winning – Best Chicago Realtors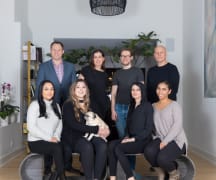 On behalf of The Dobbs Group, I thank you for visiting this special page showcasing our accomplishments. I am so very proud of my team and so very grateful to our many clients, without whom we would not have earned such esteemed accolades and achievements.
What does it mean to be 'the best real estate agent' or a 'Top Realtor'? These are phrases buyers and sellers often use when searching online for a real estate agent. I am proud to say that The Dobbs Group not only lands at the top of the page for such searches but also has thousands of clients over the past 38 years who have shared their recognition of our good work on their behalf.
We are a collaborative group, with each team member excelling in their area of expertise and all passionate about our mission to be a fierce advocate for each and every client, always striving to represent the client's best interests.
It is with great pride that I present the achievements and accolades of the award-winning Dobbs Group.
Debra
---
BEST CHICAGO REAL ESTATE AGENTS