During my more than 39 years in the real estate world I've pulled together quite a collection of helpful resources. I am pleased and honored to share it with you. And if you have questions after perusing please don't hesitate to reach out!
Debra's Local Guide: Little Black Book
If you are looking for the best plumber in your area, tips for great restaurants or anything else Chicago related, you can either flip through my Little Black Book, or contact me with a question or a suggestion for the next edition of DLBB.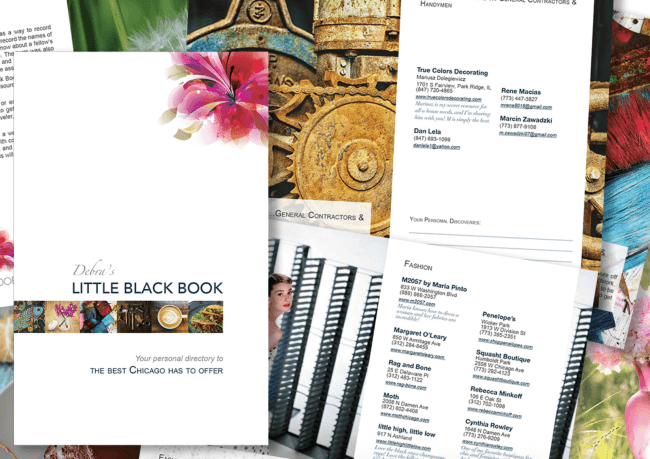 Chicago by Neighborhoods
I am delighted to share what I know about this fabulous city and her 77 neighborhoods. In this section we gather information about my core neighborhoods.
Chicago Real Estate Q&A
Our Q&A section offers answers to some often asked questions about everything real-estate. And you can ask your own question, if you wish, and I promise to send you a thoughtful and detailed response!
MLS Home Search
If you are just beginning to explore Chicago and the real estate market, you can search all the current MLS listings, visit open houses, or call me, and I am happy to answer questions and offer a bit of advice. No pressure!
Advanced MLS Search
You can also search all public MLS listings by popular residential buildings and areas, or by ZIP code, or even by your desired price range (for example, listings between $600,000 – $850,000 and so on). If you're interested in which listings have recently sold, visit this page. If you're looking for something very specific, just let us know and we'll create and send you a search tailored exactly to your needs.
The Dobbs Report
Are you considering the sale of your current home or investment property? Watch the market trends in your area. The Dobbs Report can give you a quick glance at the key figures of the market and I am happy to provide a more in depth analysis as to value of the property you wish to sell.
If you need a more in depth overview over the real estate market in Chicago, Compass produces a series of thoughtful and extensive market reports every month and I can drill down for the micro date relevant to your property.