1827 N Sedgwick St
This stunning home was completely renovated and a new third story added. Ideally located on a 35' lot in the heart of East Lincoln Park, the home is flooded with natural light in every room. The thoughtful floor plan offers 7000 square feet of living space, 5 spacious outdoor living spaces and 30′ wide living and dining room overlooking the treetops. Family room off the kitchen with two story window wall overlooking the rear yard. The kitchen is a cook's dream, with Ernestomeda cabinets in rift cut white oak stained deep brown, high-end stainless appliances, and custom floating shelves. The elegant master suite features a custom dressing room and a spa bath. Four big bedrooms upstairs and two bedrooms on the entry level. Fantastic outdoor living with lush lawn, and deck offering striking views of the city skyline and St Michael's steeple. Loads of storage, 3 car garage.
Floor Plans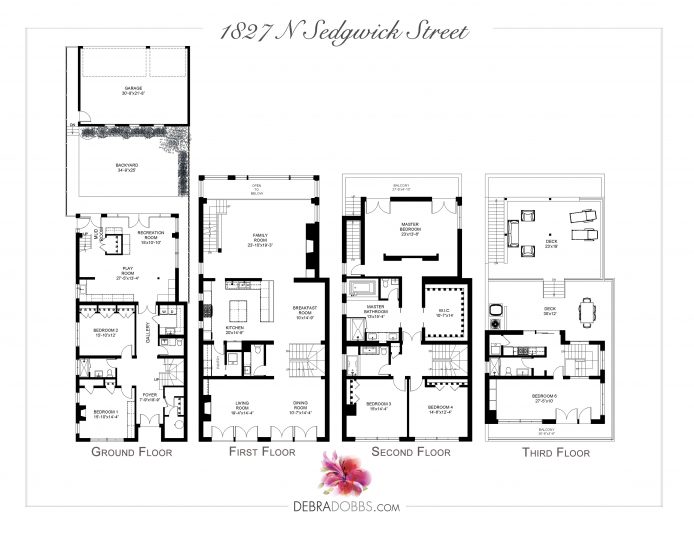 Upgrades and Specifications | Digital Brochure
1827 Sedgwick Upgrades and Specifications
1827 Sedgwick Brochure
Video
---
"We were conscious of designing the public spaces the we be filled with natural light that also opened up the the adjacent landscape, creating an indoor outdoor living environment. This allows more views to the adjacent garden and city scape beyond.
Our favorite area is the addition of the third floor, which allows for an office, guest bedroom and/or family room that has stunning views of the sunset to the west and a roof terrace for entertaining or reading a book and viewing the city to the east." Elissa Scrafano
About the Architect
Scrafano Architects was established twenty years ago designing corporate offices, commercial retail boutiques, cafes, restaurants, and residential projects of all sizes and scales including new construction, renovation and restoration. Their work appears throughout the globe commissioned by clients from all over the world. The firm has received several AIA Design Awards and has been featured in Dwell, The Los Angeles Times, Chicago Social, Western Interiors, Chicago Tribune, Midwest Home, and other publications. The firm is mostly comprised of part-time mothers adjusting to the modern family. Elissa Scrafano received a B.S. in Architecture from the University of Michigan in Ann Arbor with a concentration in art history, and a Master's in Architecture from SCI-Arc in Los Angeles. Before establishing her own business, Elissa worked at the offices of Frank O. Gehry and Associates, Eric Owen Moss Architects, Narduli Grinstein Architects, and Landworth Debolske Architects. The firm can be reached at www.scrafano.net and 312-929-3210.