Charitable Organizations That Hit Home – Get Involved!
Besides working in real estate, the Debra Dobbs Team supports several charitable organizations in the Chicago area. In an interview with Debra she says "There are few things we are more passionate about than matching people with homes in one of Chicago's 77 vibrant neighborhoods, but our charity work is one of them". Debra contributes to several local nonprofit organizations, including The Ounce of Prevention Fund, Perspectives Charter School, Safe Humane Chicago, Mercy Home for Boys and Girls, Deborah's Place, Community Health and numerous animal shelters including  Safe Humane Chicago,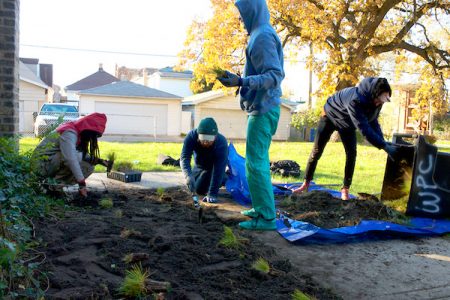 In particular, the team has recently been working with A Just Harvest, an organization set on the foundational values of feeding hunger, cultivating abundance, seeing beyond, and building power. A Just Harvest operates a business incubator titled Just Circles, that aids socially disadvantaged people in starting their own businesses. Under this mission, the Earth Force project, a landscaping business and workers' cooperative allows unemployed youth from disadvantaged neighborhoods to find work. Debra hosted a wonderful event at The Social Table to introduce a few friends to this innovative and worthy cause.
As a self-made entrepreneur, Debra (and the rest of her team!) is personally connected to this organization. A vested partner in the development of the Chicago community, Debra gives voice to the importance of workforce, community, and economic advancement as a shared value. There are so many philanthropic organizations scattered throughout Chicago's diverse neighborhoods that  need our support and involvement to grow to their full potential. And here are just a few ways that YOU can get involved!
1. Make a Donation…big or small
Though it may seem like the most obvious or simple contribution, organizations like A Just Harvest need our help! Skip that $5 coffee one day and make a donation. Better yet, sign up to donate $20 or $200 a month.  Want to get involved? Donations do not have to be monetary. Many charitable organizations compile wish lists of items that they need on a regular basis. Pick up a few of these goods on your next trip to the store, or organize a donation drive in your community! The Earth Force Project – Debra is passionate about this start up –  is currently looking for:
Garden tools such as: hand cultivators, trowels, round tip shovels, or rakes

Til machine

Riding lawn mower

Truck Trailer
2. Organize a Fundraiser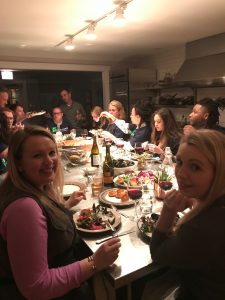 Fundraising events are a fun way to garner support for local charities. By choosing a unique experience you'll get dozens of friends and family on board to support the organization of your choosing! Gathering a large group of people to benefit your charitable cause is an effective method to spreading awareness, gaining support, and raising funds.
We think the more creative the event the better! Thinking outside the box when it comes to fundraisers will encourage more people to attend, and will make for a exceptional event. Here are a few ideas to get you inspired:
Themed Dinner Party:

Who wouldn't want to attend a fundraising event with food involved? Creating a theme for your meal will create a one-of-a-kind atmosphere. In the spirit of Debra's favorite cuisine, try an Italian themed meal! Test out one of

her authentic recipes

.

Home-Run Derby:

Channel your inner Chicago Cub and host a

home run derby

during the heart of baseball season! Charge for entry, or encourage your attendees to take bets on the winner and donate their winnings to the cause!

Gourmet Popsicle Stand:

With warmer weather arriving, gather donations with a refreshing popsicle stand! Choose one of Chicago's

incredible parks

to set up, and get creative with your flavors. Margarita pops sprinkled with salt? Yum!
When you've selected your event theme, register online with a ticketing platform for nonprofits. It's a simple way to register your event, spread the word, and track your donations.
3. Volunteer
Actions can speak louder than donations, right? Sometimes all we need to make an impact in our community is to clear a few hours in our busy schedules to help out a great cause. With all the hustle and bustle in our own day-to-day lives, we can forget about the effect we can have in the lives of others. Nonprofit organizations have dozens of ways that you can volunteer; find something that is personal to your own skills!
We're glad to be helping the many incredible organizations that make a difference in our communities and we hope we can help inspire you to do the same!
Photos from the Earth Force benefit event: