And the winner is … Centaur Interiors!
For the past 5 years I have had the honor and pleasure of representing Michael Miller and his fabulous team at Centaur Interiors in the purchase and sale of six condominium residences; each residence was fully renovated as part of a luxury suite of properties known as The Collection.
Centaur Interiors was recently honored as one of six winners for the prestigious Fantini Design Award. Here is their story:
We are excited and honored to announce our Gold Coast Residence has been selected as 1 of 6 winners for the 1st Annual Fantini Design Awards! We definitely want to give a special shout out to Hydrology Chicago for their wonderful collaboration of this stunning Master Bath.
When Fantini announced they were hosting their 1st annual Design awards contest we knew exactly which project we wanted to submit. The aesthetic and quality of Fanitni products are a perfect fit for this design and with Centaur Interior's brand. The luxury design of their fixtures are great accents to our meticulous attention to detail.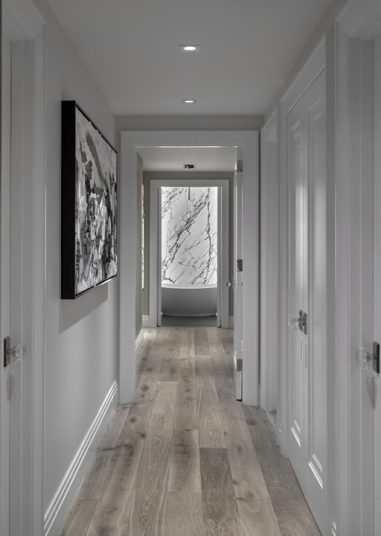 As you enter this residence and proceed to the hall, you get a fascinating distant view of the free standing tub in the Master Bath, with the posterior lit, floor to ceiling black and white marble. It is truly is a wow moment when you see it.
We enjoy creating a lifestyle for our clients and this residence is a 3,380 sf development property, designed, built and furnished by Centaur Interiors and purchased after completion. The Design Team's Goals was to create a space that is a top tier move in ready residence, containing luxurious finishes with and a unique modern twist, while still appealing to a broad market.
The inspiration for the project circled around two concepts – Modern Day Art Deco and Soft angles. The design also includes a play on strong contrasts. This can be seen in the black fireplace against the white panel's walls, and the beautiful black and white Italian marble slabs in the Master Bathroom.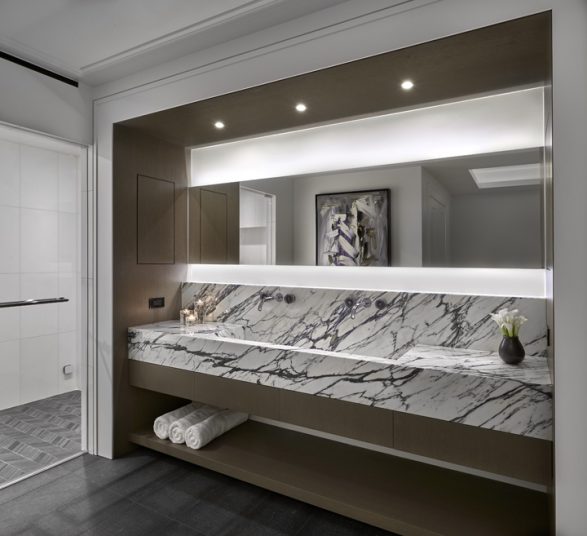 This master bath is one of Michael Miller's (Centaur Interiors Principal) favorite, so it is extra meaningful to win this award on a design that really represents who we are and what we do. Let's not forget this is the First annual contest. To be the first to receive this honor is a great accomplishment.
An interesting aspect of this project was that it was designed with art in mind. This home is built with integrated lighting and finishes to highlight and incorporate artwork within the home, which was also present in the Master Bath. Pieces were curated exclusively for this residence, to make this home a true "masterpiece".
The winners receive a trip to Italy and our designer is enthusiastic to meet the others in the surroundings that inspire what we do.