Starry Nights Beef Bones Soup
My sister-in-law, Eva, makes a wonderful Bone Broth and Veggie Soup from the beef bones that are always included in our Starry Nights Beef Box. Starry Nights Farms produce 100% grass fed beef in a sustainable, humane way. Support a small organic local farm – the owners of the farm are transplants from Lincoln Park. Gotta love their beef!
While Eva doesn't follow a recipe, she has created one for us to try and replicate this dish! It's perfect for a cold and cozy evening at home.
Bone Broth and Veggie Soup
INGREDIENTS
For the broth:
2.5 lb frozen beef bones with marrow and meat
2 large Yellow onions, unpeeled & cut in half
6 celery stalks (whole)
6 Carrots (whole)
2-3 tomatoes (whole)
Handful of Parsley (whole, with stems)
2-3 garlic cloves (unpeeled)
2-3 bay leaves
Salt & 10 peppercorns (whole)
To finish the soup:
3 carrots, diced
4 celery stalks, diced
1 garlic clove, minced
Handful of Parsley, chopped
Salt & pepper
Homemade Pasta
In a dutch oven or a large pot, add frozen beef to cold water with a pinch of salt and peppercorns, add celery, carrots, tomatoes, parsley, garlic, bay leaves. Bring to boil than reduce heat to low and simmer for 4 hours or more.
When the meat is super tender, remove from the broth. Trim meat into small pieces, strain the broth and discard veggies.
(give large bones to begging doggies, maybe some meat too!)
Add meat back to the broth, add diced carrots and celery. Season with additional salt and pepper as needed.
Before serving, add fresh pasta (see below for homemade recipe!), cook for three minutes, finish with chopped parsley. Enjoy!
Eva's Homemade Pasta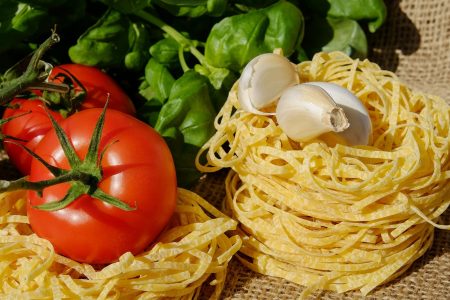 INGREDIENTS
1 egg
Pinch of Salt
Semolina flour
Beat egg and salt. Add semolina and mix until a tough dough forms. Cover dough in plastic wrap, set in a warm, draft free spot and let rest at least 30 minutes.
Prepare surface with enough semolina flour to prevent sticking. Remove plastic wrap, roll out dough until very thin. Cut dough (you can use a pizza cutter in a pinch!) into 1-2 inch strips, and dust with more semolina to prevent strips from sticking together. Stack strips into a pile, and cut noodles diagonally to desired width.
Lay noodles flat on a towel to dry a bit before adding to the soup.