Spressata – most amazing dip with a totally made-up name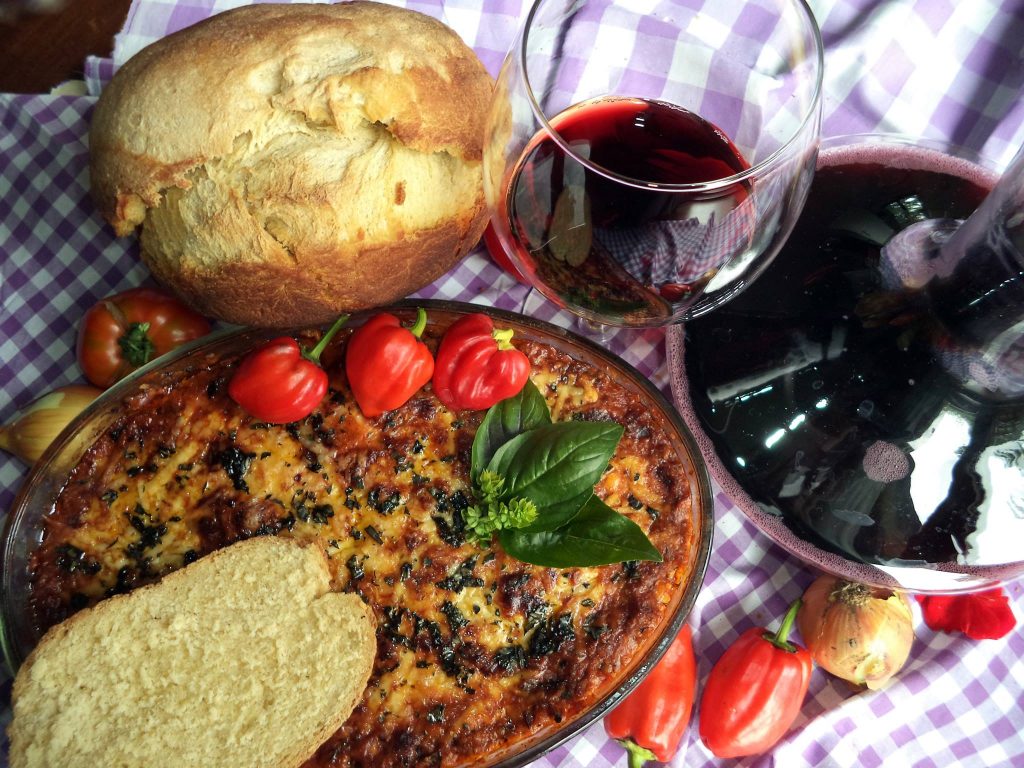 Though he drives me absolutely bonkers, my brother Michael is a wizard in the kitchen, thus makes up for the bonkers. There is nothing better to snack on in the middle of dreary, frigid winter than his Spressata! One day last winter while at my house for their annual visit, Michael and his fabulous wife (my darling sis in law) were scheming to use the leftovers of everything in my kitchen; from the last of the vegetables; to small wedges of cheese; to the last of a variety of nuts (my brother makes his own nut milk so I have lots of nuts around…Michael included); and they came up with this most amazing dip with a totally made-up name. I treat Spressata like chili; give me a spoon and a big bowl full of the stuff, then leave me alone to savor the moment.
SPRESSATA
Ingredients:
4 to 6 large tomatoes
1 medium red onion
6 toes of garlic
1 large sweet bell pepper (red-orange-yellow) or 2 sweet paprika peppers (grilled and peeled)
1 cup smokehouse almonds or any nuts of your choice
1/2 cup salsa (hot for me!)
1/3 cup hot or mild giardiniera (with lots of its oil)
1/2 cup parmesan cheese (grated)
1 cup your favorite semi hard cheese (asiago, gouda, manchego etc..) chopped or crumbled into medium size pieces.
your favorite dry herbs, to taste (oregano, herbs de provence, fine herbs etc…)
mixture of your favorite fresh herbs chopped, to taste (basil, rosemary, parsley etc…)
1 teaspoon chili powder or paprika
ground black pepper
salt
red wine (optional)
Preparing:
Chop garlic, onion, tomatoes, and peppers (coarsely chopped is fine, mixture will be added to food processor).
Sauté garlic, onion, and peppers in a good amount of oil for a few minutes then add tomatoes, chili powder, dry herbs, and red wine and sauté for a few minutes more.
While veggies are sautéing grind almonds in a food processor (not to fine).
Add slightly cooled sautéed mixture to almonds in processor and blend.
Pour mixture into ceramic or glass oven ready bowl.
Stir in salsa and giardiniera.
Stir in half of the parmesan.
Stir in fresh herbs (leave some to sprinkle on top after baking)
Stir in rest of cheese.
Add salt and pepper to taste.
Sprinkle the other half of parmesan on top.
Bake in preheated oven uncovered at 400` till toasty on top, 15-20 mins (you can finish under the broiler for a couple of mins if necessary).
Remove and let cool down 5 mins & top with fresh herbs.
Serve with your favorite bread!