*live local*shop local*be local… Neighborhood get-together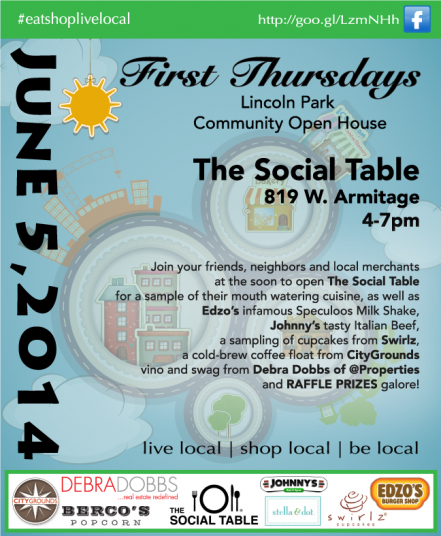 Come June 5 to enjoy Lincoln Park's FIRST THURSDAY with neighborhood merchants and friends.
Sample treats from local vendors and visit with local business owners over a cool drink as we (finally) celebrate the arrival of summer.
This month's FIRST THURSDAY will be held on the patio of The Social Table. Come meet proprietor Rebecca Goldfarb and learn how her (newly arrived) business brings friends and food together with memorable events.
This free event will be held (weather permitting) on the patio of The Social Table, 849 Armitage this Thursday, June 5, from 4-7 PM.
Come enjoy the weather and sample and celebrate some the best our amazing neighborhood has to offer!