Holiday Shop-Hop event in Lincoln Park. Come say Hi!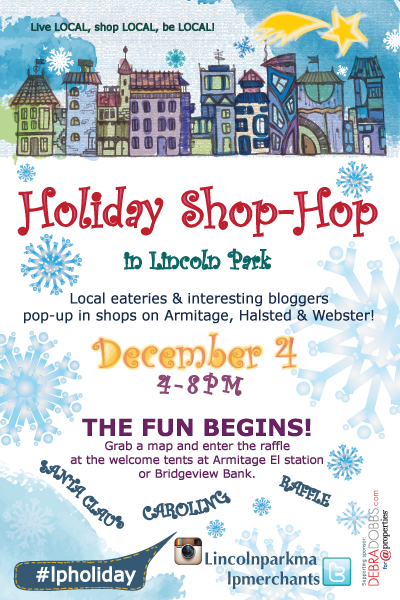 This will be fun!
This Thursday, your favorite shops on Armitage, Halsted, and Webster streets partner up with local food vendors and interesting bloggers for an exciting shopping party. Meet your neighbors, keep an eye out for Santa, have fun, enjoy free food and drinks, and support your local businesses when you buy some holiday presents!
You will find me at All She Wrote pouring wine and bubbly, come say Hi!
Participating Businesses & Bloggers:
All She Wrote: She Loved Life and Life Lately Blog with DEBRA DOBBS for @properties
Art Effect: Isn't that Charming and Charmingly Styled with SWIRLZ CUPCAKES
Barbour: Kinks are the New Pink and The Golden Girl with JOHNNY'S BEEF
Comfort Me Boutique: 312 Beauty and Caravan of Style
Essentia: The Little Foxes with FRITZ PASTRY and EXPERIENCE CHIROPRACTICS
Francesca's Collection: Hallways are my Runways and Hot Pink Style
Fortunate Discoveries with RICKSHAW REPUBLIC
Fox's Designer off-Price: Lakeshore Lady and Color Me Styled with CH Distillery
Green Goddess Boutique:  An Eventful Life and Gold Coast Girl with LE PAIN QUOTIDIEN
Kiehl's: A Cheeky Fox with CITYGROUNDS COFFEE BAR
Little Black Dress: the style letters and  2 girls 2 cities with ELIO PIZZA
Londo Mondo: Cedar and Rush and Project Soiree
Lululemon: Adrian-James with STELLA BARRA
Oh, Olive: The Kittchen
Pilates Pro Works: A Sweat Life
Pure Barre: Lakeshore Runner
Rara Avis: House and Hanger with EZRA'S
Shop857: Actually, just Jennie and Lows to Luxe with MRS. GREEN'S NATURAL MARKET
Stella Barra: Chritique
Studio Fit: The Balanced Babe
Ten Thousand Villages: The Kissing Booth Blog