Grandpa Florie's Giardiniera Recipe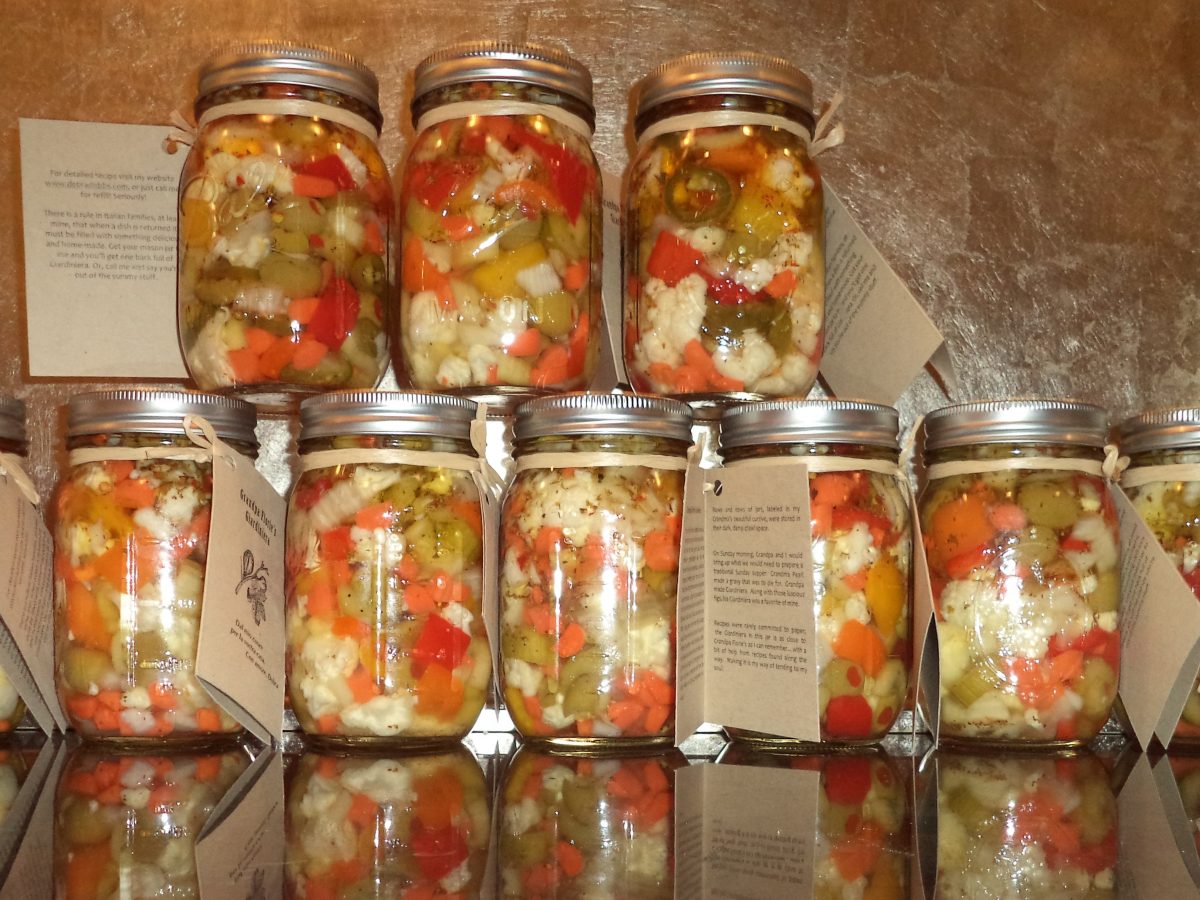 One of my favorite childhood memories is of tending the garden with my Grandpa Florie.  He had the most gentle hand, with his beloved granddaughter and with his beloved fruits and vegetables; 3 varieties of grapes, towering apple tree and peach trees, two lush fig trees and every vegetable under the sun….all set on 2500 square feet of dirt within three blocks of a steel mill that billowed black soot all day and every day. After a long day at the steel mill, Grandpa would come home and nurture his soul by tending his garden.  I was at his side as often as allowed and learned how to make wine (at the ripe old age of 5!), trim green beans, bury a fig tree to keep her safe from the harsh winter and 'put up' vegetables and sauce.
Rows and rows of jars, labeled in my Grandma's beautiful cursive, were stored in their dark, damp crawl space.
On Sunday morning, Grandpa and I would bring up what we would need to prepare a traditional Sunday supper.  Grandma Pearl made a gravy that was to die for.  Grandpa made Giardiniera.  Along with those luscious figs, his Giardiniera was a favorite of mine. 
Recipes were rarely committed to paper;  the Giardiniera in this jar is as close to Grandpa Florie's as I can remember…with a bit of help from recipes found along the way.   Making it is my way of tending to my soul.
***
Giardiniera is used mostly as a relish. Use it on your pizza, in chicken dishes, marinara sauce, or just about everywhere that needs a little kick.
Grandpa Florie's Giardiniera Recipe
VEGETABLES:
4 jalapeño or Serrano peppers thinly sliced (leave out for mild version)
1 red bell pepper
1 yellow bell pepper
1 celery rib, diced
1 carrot diced
1 can green olives w/pimentos
1 small onion diced
1/2 head cauliflower, stems removed and florets chopped
TO CURE: 1/2 cup salt
THE BRINE:
3 cloves garlic
2 1/2 teaspoons dried oregano
1 teaspoon red pepper flakes
1/2 teaspoon celery seeds
black pepper
1-1/2 cup white vinegar
1 cup safflower oil
½ cup olive oil
Dice the vegetables into a large bowl.  Sprinkle on the salt and mix until well combined.  Pour in the enough water to cover the vegetables.  Cover with plastic wrap and refrigerate for at least 12 hours.
Drain the water, and rinse the vegetables under cold water to remove most of the excess salt.
In a small bowl combine the garlic (minced), oregano, red pepper flakes, celery seeds and a pinch of black pepper. Add the vinegar to the bowl and stir until combined.  Then slowly whisk in the oil. Place the vegetables into jars and top with the brine.  Cover and refrigerate for at least 48 hours, to allow the flavors of the brine to combine with the vegetables.
Store in your refrigerator and eat it up within a few weeks.