Design Trends… 2018 by Andy Bowyer of Middlefork Luxury Home Builders
To provide the best service to my clients, I regularly consult and collaborate with top high-end builders. What's in, what's out, what lasts forever? One of my favorite high-end builders is Andrew Bowyer of Middlefork Development, who creates dazzling homes that can go transitional or traditional at the client's pleasure in Chicago's most prestigious neighborhoods.
Here's what he has to say about trends for 2018: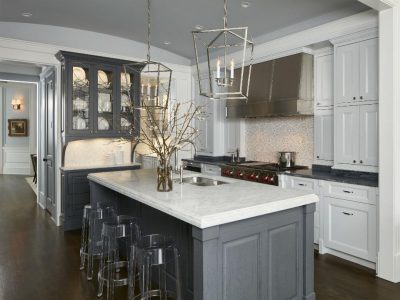 Bye bye all-white kitchen: Think dark lower cabinets and lighter upper cabinets, a solid color island with light and glassy cabinetry on the perimeter. At one of our homes, Bowyer says, we used a blue wash over walnut on the island and built-in buffet; the rest of the cabinetry was painted white. Color adds personality to a kitchen.
Hello quartz: For luxury countertops in kitchens and bathrooms, we're using quartz, an engineered stone product that's durable, heat and stain resistant, beautiful. It looks like marble. Quartz manufacturers have really stepped up their game with the designs of quartzes. White quartzes are particularly beautiful, capable of showing depth and movement.
Mix your metals: Forget matchy-match, consider glamor. We're combining brass cabinet hardware with oil-rubbed bronze door hardware and polished nickel lighting. We'll couple gold-gild floor lighting with brass furniture accents.
Full-field tiling in the master bath: Wall to wall tiling — whether it's budget-friendly tile or a luxe marble — makes a space look larger and less busy. Serene. The eye moves to fixtures, millwork, wall treatments.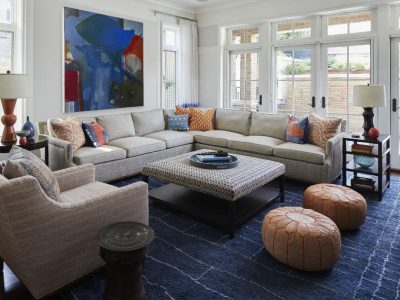 Embrace color: Neutrals (white, greys, taupes) have a place in all homes but this year you'll see bold, dominant colors in the mix, which add drama and warmth. Pantone's colors of the year include a deep sailor blue, rich chocolate brown, a crisp arcadia green. In one of our homes, our client and their designer selected neutral seating in the family room, anchored a ribbed navy rug, a pop of red in a mod lamp, abstract art with blues and greens and reds.
Photo credit: Nathan Kirkman