ASK ANTHONY: Refreshing Your Living Spaces for Spring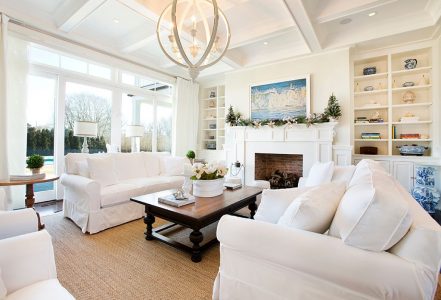 Now that the holidays are over and all of the decorations are put away, you may look around at your interiors and think that they look a little sparse. Even with these gray days of late Winter, it isn't too early to start thinking Spring.
There are many inexpensive and clever things that you can do to lift your spirits and freshen up your home. Chicago Interior Designer Anthony Michael offers us a few of his favorite tips and tricks to boost your mood and have you thinking of warmer days ahead.
Try pulling up your area rugs and replacing them with a nice warm sisal rug that says "Summer is just around the corner."
Throw a store bought slipcover in a simple muslin fabric over existing upholstered pieces.
Flowers! Fresh cut florals like tulips in clear glass containers are an inexpensive luxury to brighten your space.
Switch out your bedding with mix and match pieces in all white, for a fresh feel.
Try some inexpensive Areca palms from a big box hardware store. Cover a square container in burlap and tie with twine for added texture.
Set a fresh tablescape with simple all white dishware over some yards of natural linen fabric. A tablerunner made from sod or rye grass from your local hardware store and some thin white taper candles create a lighthearted atmosphere.
Have fun with centerpieces and don't be afraid to bring in a mismatched assortment of serving pieces.
Banish some clutter, release yourself from the heavy, dark fabrics that surrounded us during the holidays, and relax. Your home and emotional well being will thank you.
Live Brilliantly
Stay Positive
Be Happy,
Anthony Michael