ASK ANTHONY: 10 tips for a more romantic master bedroom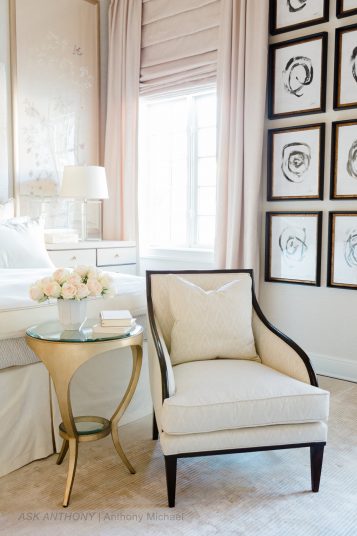 With Valentines Day just around the corner, let's get a design professional's opinion on creating a more sexy and alluring bedroom retreat. Simple design changes can spice up the drama in your life… even if you're single.
Resist the urge to over pillow. For a 2 person bed you need at most 2 euro shams and 4 sleeping pillows, after-all who wants to compete with a pillow!
Curtains are key. Black out curtains are a must in the bedroom so you can stay in bed as long as you want, ah hello… softly lit makes the day melt into night.
Invest in bedding. Good bedding. If the goal is to spend a lot of time in bed, or you have minimal time to enjoy a luxurious bed, it only makes sense to outfit said bed with the most fabulous bed linens. My personal picks are the Italians!..Frette, Anachini, Pratesi, Muse bespoke.
Pick colors you love and look great in! Go with your favorite fashion colors because you should look amazing in the bedroom. I personally use my client's eye color as a springboard, for example, slate blues with white make for a soothing and very sexy environment.
Go easy on the patterns… remember serenity is romantic. Keep fabrics simple and luxe… people should be the ones adding the pattern and texture to the bedroom.
Opt for carpet for anything but a beach house-where wood floors are fine – you should consider wall to wall carpeting in the master bedroom, my choice is Fabrica carpets as they have a cloud like density, and a feeling of silken luxury beneath your feet.
Take a chance on drapes. I love the elegance of a whole wall of drapery ceiling to floor..especially if they billow like a romance novel.
Consider wallpaper. A wallpaper with depth and dimension can add color and spice to the bedroom. Personally, I love Maya Romanoff weathered walls, in a deep burgundy or rust tone.
Make it comfortable. A pair of cozy chairs or a soft chaise for reading and lounging are a must.
Unplug. The bedroom should be a soothing place. Say no to cellphones, PDA's, TV's computers. Say yes to romance! The focus is on you and your intended one.
Happy Valentines Day. (Don't forget to love yourself!)
Live Brilliantly
Stay Positive
Be Happy,
Anthony Michael