Bucktown Realtor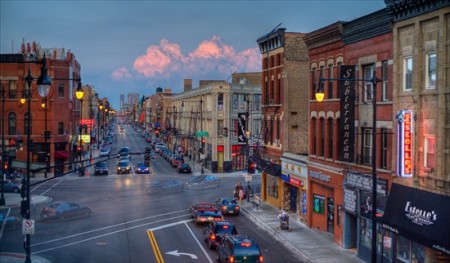 Vibrant and trendy, with a little bit of edge — everybody is singing Bucktown's praises these days (myself, included).
The true definition of an urban mecca; chic boutiques, restaurants, bars, coffee shops and an eclectic mix of Real Estate, from streamlined modern to historic vintage to edgy industrial. It's easy to see what attracts buyers and sellers to Bucktown (and agents, too!).
Aside from the great Real Estate it's become known for, Bucktown is an area rich in culture and history, and actually got its name from the number of goats (i.e. "Bucks") being raised in the area. The neighborhood was originally the city's famed "Polish downtown", which came alive in WWII. Later on came the influence of Germans, Puerto Ricans, Cubans and Mexicans, and much later, a budding artist population — creating what is perhaps one of the most interesting and culturally rich areas of the city.
Buying Real Estate in Bucktown is a great bet in today's market, with property values in this trendy neighborhood up 30% from 10 years ago. Prices for condos and homes can range anywhere from $44,000 (yes, you can buy a condo here for $44K!) up to $7 million for a single family home.
If you're planning to visit (or move!) to Bucktown, you can't miss my very favorite spots. Check out these local gems below.
Club Lucky
Head to Club Lucky for their cavatelli. It's just like my grandma used to make! (The red sauce is divine.) I still remember when I lived in Bucktown back in 1999, I used to walk here often with my daughter 'driving' by my side in her pink, battery operated Barbie car.
Coast
Coast boasts some of the best sushi in the city, and best of all, it's BYOB! My daughter and I love the Niku Soup and the Sunrise roll.
Goorin Brothers Hats
A 4th generation, family-owned hat shop! Venture in for artfully made hats, and a special, personal experience you won't find anywhere else.
Hot Chocolate
To state the obvious, their rich, creamy, hot chocolate is to die for! As is every single thing on their menu — brunch, lunch, and dinner, this has been one of my personal favorites for years!
Robin Richman
For a selection of the most exquisite jewelry and clothing, make a visit to Robin Richman. You've never seen anything quite like their selection of luxury items!
What do you look for in the Top Bucktown Realtors & Real Estate Agents? Someone with a vast understanding of Chicago neighborhoods? How about an invaluable partner and fierce advocate? You should never settle for anyone who isn't always striving to exceed your expectations!
The Neighborhood at a glance:
Walk score: 90


Walker's Paradise – Daily errands do not require a car

Bike Score: 82

get nearly anywhere on your bike!

Public Transit: 73

great public transport service is available
Schools:
Aside from the Real Estate, a big draw to the Bucktown neighborhood is its close proximity to some of Chicago's best schools, not just in the name of convenience, but because this factor contributes to an uptick in neighborhood property values as well!
Pulaski International School

Thomas Drummond Elementary School

Near North Montessori School
Does Bucktown sound up your alley? Check out our @properties Bucktown listings here!
About Debra: Debra is one of Chicago's most elite realtors, consistently ranked in the top 1% and on Chicago Agent's Top Ten List. As part of @properties, the largest independent Real Estate brokerage firm in Illinois, she's been fiercely advocating for her clients for the past 30 years. A longtime lover of the Bucktown area, and having been a resident herself, she understands the nuances that contribute to Bucktown property values, block by block. If there are any questions you have about the area, call Debra today at 312-307-4909!
What makes Debra your top Chicago realtor and the best of the best?